Kitchen Renovations
Considering a Kitchen Remodel?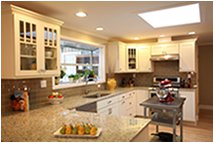 There are many reasons why homeowners decide to explore a kitchen remodel.
Your kitchen may be out-of-style
It may not function well
You don't have enough storage space
You may not have ample lighting
Your kitchen is not big enough
Something may be broken or need repair
You may be thinking about resale

Whatever your reason, it's important to share "why" you are ready for a change with your Contractor. This helps ensure the best, most innovative and practical ideas are on the table for discussion—from the very beginning.
A Tip to Get You Started
Ramping up for a kitchen remodel can be overwhelming. Here is a tip that will help you save time and make you feel more prepared: Begin gathering ideas for your kitchen through internet research, brochures, magazines, even other people's homes! This is a great way to explore the options available for discussion with your Contractor. Once you sit down to begin the planning process, you'll feel more equipped to make key design decisions.
Visit our Planning page to learn about how to get started and download our kitchen planner.
Contact us . We'd like to hear what you're thinking.