Bathroom Remodeling
Considering a Bath Remodel?
There are many reasons homeowners explore a bath remodel. An exceptional Contractor will help ensure that your ideas are executed with skill for a beautiful finished product.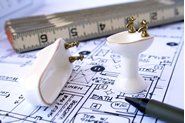 Your bathroom may be out-of-date
It may not function well
You may not have enough storage space
You may not have enough lighting
Something may be broken or need repair
You may be thinking about resale
Whatever your reason, it's important to share "why" you are ready for a change with your Contractor. This helps ensure the best, most innovative and practical ideas are on the table for discussion—from the very beginning.
Some Tips as You Consider a Bath Remodel
Ok. So you know you're ready for a new bath, but maybe not quite sure where to begin. Here are some tips to get you started.
You have a lot of options in terms of who to work with. It could be a plumber, bath showroom, big box store, or remodeler.
The important thing to remember when selecting who to work with is to base your decision on the scope of work itself.
Start dreaming about what your new space will look like. Gather ideas online, magazines and from your friends and family.
Give Nip Tuck Remodeling a call. We'll consult with you on options for your next best steps depending on what you want to do. Sometimes just visiting your space and hearing what you want to do with it can help clarify for you the best, most value-driven decision. Nip Tuck Remodeling loves offering potential clients our ideas and expertise!
Contact us. We'd like to hear what you're thinking.